Común Pocket Knife, Carbon Steel
by Pallares
Regular price

$16.50
Sale price
Share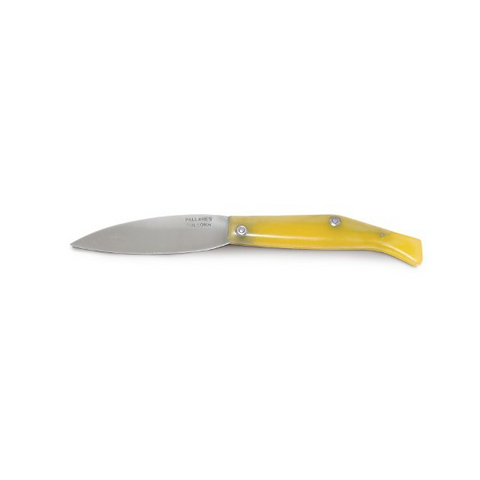 The Común pocket knife is named as such because it is one of the most used knives worldwide. Its laurel shaped blade offers a versatile and reliable cut. This Común Pocket Knife has a lighter weight feel with the same solid durable construction. The Nº1 (9cm) blade is made of carbon steel. The simple yet sophisticated design gets the job done with lasting reliability. Blade folds into handle and locks into place at 90 degrees and when fully extended. All blades are hand sharpened.

A city known for its knives for centuries, Solsona had up to twenty different workshops in the old quarter from the 16th century until the beginning of the 20th. They gradually disappeared until the only workshop left was Pallarès, which was founded in 1917 by the brothers Lluís and Carles Pallarès i Canal. Today, the third generation is working to maintain the high quality of their products by adapting to new technologies without sacrificing artisanal techniques.

Types of Steel
Carbon steel (C.S.) is the original material and is therefore stronger, the edge lasts longer and it is much easier to sharpen. On the other hand, if care is not taken, it can easily rust. In order to avoid oxidization, it is recommended to dry the blade immediately after each use and, if you are not planning to use it for a while, you should apply a layer of oil that will prevent the blade from rusting. Stainless steel (S.S.), which is the result of adding chromium and nickel to carbon steel, does not rust so easily, but being a softer material, it loses its shape faster and it is much more difficult to sharpen. Even when the blade is made of stainless steel, rusty spots can appear when washed with overly aggressive soaps (salt or caustic soda). This is due to the high quality of the steel used, which is necessary to achieve maximum hardness. We recommend not to wash knives in the dishwasher, regardless of the type of blade.

Maintenance
To preserve both the blade and the handle, it is recommended to always keep the knife clean and dry. It is important to wash and dry it immediately after use. We also suggest not to leave the knife in water for a while if it has a wooden handle, because the handle will expand and contract and may break. Professional knives and kitchen/table knives with handles made of plastic/resin (polyethylene, phenolkraft or nacre) can be washed in the dishwasher, although it is not recommended.