State Candles
Regular price

$28.00
Sale price
Share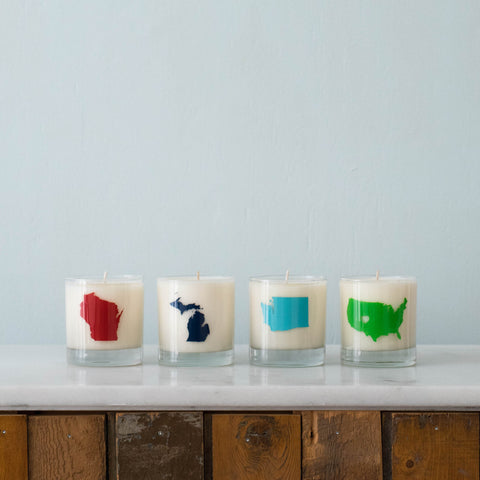 Home sweet home! These candles are great for housewarming gifts, birthdays, newly engaged couples, college graduations and so much more. Add a cozy touch to any home with our new natural scents and 100% USA grown soy wax. The burn time is 50 hours and after you're done enjoying your candle you can wash out the glass with warm soapy water and reuse it as a cocktail glass. Booyah, double win.
Please add to the notes in checkout which state you would like. Please know that each state only comes in the color listed below:
Alabama - Red
Alaska - White
Arkansas - Red
Arizona - Red
California - Yellow
Colorado / USA - Green
Connecticut - White
Delaware - Red
Florida - Orange
Georgia - Yellow
Great Lakes - Blue
Hawaii - Turquoise
Idaho - Red
Idaho - White
Illinois - White
Indiana - Green
Iowa - Yellow
Kentucky - Orange
Kansas - Blue
Louisiana - Green
Maine - Turquoise
Maryland - Green
Massachusetts - Yellow
Michigan - Blue
Michigan- Blue
Minnesota - Blue
Mississippi - Turquoise
Missouri - Red
Montana - Blue
Nebraska - Turquoise
Nevada - Orange
New Hampshire - Orange
New Jersey - Blue
New Mexico - Turquoise
New York - Blue
North Carolina - White
North Dakota - Green
Ohio - Red
Oklahoma - Orange
Oregon - Green
Pennsylvania - Turquoise
Rhode Island - Red
South Carolina - Blue
South Dakota - Orange
Tennessee - Orange
Texas - White
Utah - Green
Vermont - Green
Virginia - Turquoise
Washington - Turquoise
Washington, DC - White
West Virginia - Yellow
Wisconsin - Red
Wyoming / USA - White
Vitals Signature Scents:

Black Currant Rose / Sweet Evening Primrose (All Natural) - Sweet and soft that fills your home with delight. The subtle scent of a dried bouquet.
Desert Trail (All Natural) - Calming hints of white sage, cedar and citrus.
Mountain Pine -  A walk in the woods with crisp pine scent with notes of cedar leaf, cypress, and rosewood, and a base of balsam and musk.
Beach House - If you love the beach you will love this scent. This scent will remind you of sitting on your beach towel waterside catching some rays and enjoying the fresh air. Sweet notes of pineapple, coconut and peach with green, fresh notes and a base of sea moss. 
Warm Laundry - The fresh scent of warm cotton that invokes feelings of home.
Lavender Dreams - Dream a little dream of lavender, cotton and vanilla.
Citronella (All Natural) - Bugs be gone. Inspired by backyard get-togethers in Northern Wisconsin.
Unscented - for those sensitive to fragrances or are just looking to add some ambiance in their home.