Cheers Soy Candle 20k GOLD reusable container
Regular price

$30.00
Sale price
Share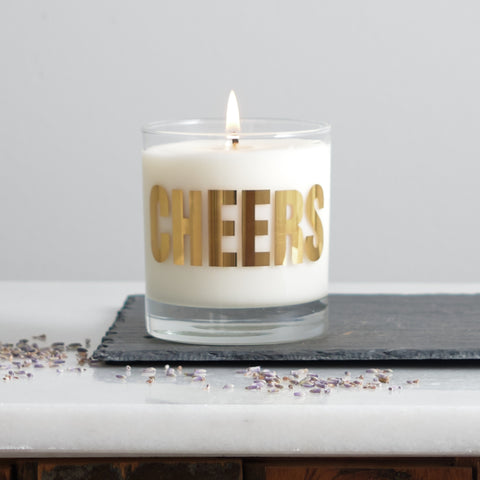 Celebrate in style with this 20k gold mirror finish candle and when you're done celebrating we will give you something to celebrate all over again! Wash out the glass with hot soapy water and reuse it as a drinking glass. Reduce, reuse, recycle as we like to say!

The candle is composed of 100% USA grown soy wax and is hand poured into rocks glasses that are also made in the USA. Our newest scents are all natural and are sure to be a crowd pleaser!

Vitals Signature Scents:

Black Currant Rose / Sweet Evening Primrose (All Natural) - Sweet and soft that fills your home with delight. The subtle scent of a dried bouquet.
Desert Trail (All Natural) - Calming hints of white sage, cedar and citrus.
Mountain Pine -  A walk in the woods with crisp pine scent with notes of cedar leaf, cypress, and rosewood, and a base of balsam and musk.
Beach House - If you love the beach you will love this scent. This scent will remind you of sitting on your beach towel waterside catching some rays and enjoying the fresh air. Sweet notes of pineapple, coconut and peach with green, fresh notes and a base of sea moss. 
Warm Laundry - The fresh scent of warm cotton that invokes feelings of home.
Lavender Dreams - Dream a little dream of lavender, cotton and vanilla.
Citronella (All Natural) - Bugs be gone. Inspired by backyard get-togethers in Northern Wisconsin.
Unscented - for those sensitive to fragrances or are just looking to add some ambiance in their home.